Will i7-6700HQ be supported by Windows 11?
Want to know the correct answer, then you are in the right place.
When this new version of the operating system was released by Microsoft, it was in buzz due to its performance and features.
But then because of the incompatible hardware issues of AMD and Intel processors, TPM, and secure boot, it wasn't liked much.
And to figure out this issue, Microsoft provided a new Windows 11 tool that allows users to check whether their computer is compatible or not.
Not this tool only helps in checking but also gives information about the issues, so that your PC can meet the requirements for this OS.
Apart from that, the majority of users faced issues with the Intel i7 6700HQ chip, and to fix it, we have answered a few questions.
So, without further ado, let's get started…
Will Intel Core i7-6700HQ be Supported by Windows 11?
To put it simply, the i7-6700HQ is not supported with the latest version of Windows 11. As this intel CPU is from the 6th generation and this 11th OS needs at least a processor from the 8th gen in order to run properly.
Even if your device meets all the system requirements of Windows 11 and only lacks one spec, then also it will not work. And to check it properly, the company has introduced the PC health check app for further confirmation.
Although, the Intel Core i7-6700HQ CPU @ 2.60 GHz processor is very powerful but due to its old generation and graphics drivers problem, it is not compatible till now.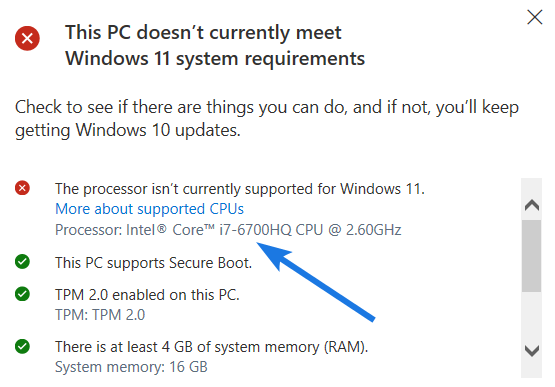 Moreover, there are some ways that can work for this specific CPU, which we have shown later in this post.
So, let's get started…
Can i7 7th Gen run Windows 11?
No, according to Microsoft you cannot run Windows 11 on i7 processors of the 7th generation. However, if you really want to experience this OS on your laptop, computer or PC then you can forcefully install it on your device. Nevertheless, if you want to do this, you won't be able to receive any security updates officially.
And the best part is that, I have seen many users running this operating system on the i7-6500u chipset also without any issues or problems. So, I would suggest you to give it a try.
Will Intel Core i7-6700HQ run Windows 11?
No one can exactly answer this question because this totally depends on Microsoft and when they will allow the Intel i7-6700 HQ processor for running Windows 11. Apart from that, the company has also provided some temporary hacks to install on unsupported hardware without upgrading them.
But I have seen one user sharing their thought on Reddit, that most of the applications are running slower and you cannot run heavy games. So, I would suggest you to give a second thought to your installation as you might not be able to receive some major updates.
Does Windows 11 support i7-6700k?
No according to me, the Intel core i7-6700k does not support Windows 11 but we have seen many users running it successfully by using some hacks. Although, this operating system was designed to run on a system having a processor of the 8th generation, except that there are a few models of the 7th gen that meets the other minimum specifications.
Therefore, if you want to make use of this latest OS, then you have two options. First, manually upgrade the hardware of your device or use the registry hacks to bypass these requirements which are necessary.
Can Core i7 6th Gen run Windows 11?
No, it's not possible to run windows 11 on an i7 6th generation CPU because of the incompatibility issues, and also these chips don't have the TPM 2.0 version installed on the motherboard. Furthermore, it is also worth noting that Microsoft no longer intends to add support for these CPUs like i7-6820HQ that are below the eighth generation family.
Also, if you want to double-check which older processors are supported with Windows 11 operating system, then read this updated Intel list. And then decide if you are upgrading the hardware or just moving to some other OS like Linux or macOS, like many of them have already done.
That's it for now…
Conclusion
So, that's all about the Win11 OS and the questions related to the Intel i7-6700HQ processor which are necessary to discuss. Furthermore, I recommend you to also cross-check the system requirements using some other third-party tools other than the PC health check app.
I know that there are plenty of powerful features of this operating system that makes it a good choice for Windows users but since it is not compatible, users are facing issues.
Stay tuned for the latest posts…
Feel free to share your thoughts via comments and also tell us about this post on Will Intel Core i7-6700HQ be Supported by Windows 11?
If you liked this post, don't forget to share it.