Is Intel Core i7-7500U Supported for Windows 11?
Searching for this specific question, then you are in the right place.
Anyone who has been following this new operating system and wants to upgrade their system to Windows 11, but realizes that their computer didn't meet the minimum requirements for one or other reasons.
For the most part, this has to do with the generation of the CPU.
For example, I had the same issue with my Intel i7 7500U processor which is apparently too old and not officially supported for the latest version of Windows 11.
And if you are facing the same issue of installing it on 7th gen i7 or other older generations then don't worry, here is a simple solution that will definitely help you.
So, without further ado, let's get started…
Is Intel Core i7-7500U Supported for Windows 11?
However, if we look at the benchmark of the i7-7500u processor then you will see that it is capable enough for running Windows 11 OS, it has powerful CPU cores which run @ 2.70GHz clock speed which is absolutely enough for running on any operating system on the desktop.
But after using the PC health check, many users got to know that it is not compatible and they shared their feedback on platforms like Reddit with screenshots of their compatibility test. And then many other users also participated and shared images of CPUs like the Intel i7-7700K.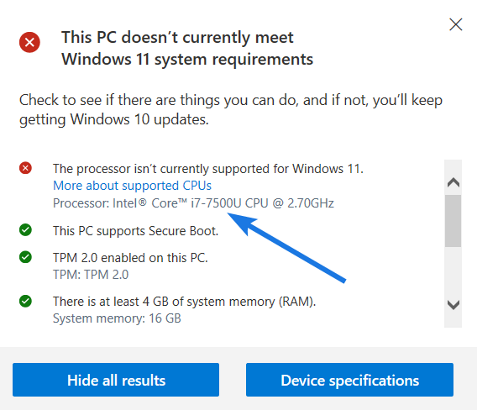 Can i7 7th Gen Run Windows 11?
Yes, the i7 7th gen processors can run Windows 11 but due to some hardware requirements, Microsoft has issued a list of AMD and Intel CPUs which can only run this operating system. Moreover, it is only available for the 8th generation or relatively newer processors with TPM 2.0, Secure Boot, and other features.
Although, the Microsoft community has already found some ways to install Windows 11 without TPM and other requirements. And after that many users have already started running this operating system on their unsupported CPUs.
Will Windows 11 Support Intel Core i7-7500U in the future?
Unfortunately, no one can answer this question accurately because this totally depends on the company and they may probably release some update if they want to fix it. But currently, the Intel Core i7-7500u is not supported by Windows 11 due to the architecture of the processor and the potential failure in compatibility.
But one thing which made users angry was that when the list of CPUs was released, this specific processor was included but then they later update it and removed it from there. Also till now, no new versions are added to this list and we think it won't get updated further.
Can Intel i7 run Windows 11?
Yes, the intel i7 can run it but the minimum i7 processor for Windows 11 belongs to the 8th generation which has both advanced TPM and secure boot facilities. In a nutshell, all the older CPUs like the 7th, 6th, 5th, and 4th gen won't be supported by this operating system.
And if you are thinking that this is only happening to you then you are totally wrong because they are plenty of chips like i7-7820HK, i7-7700HQ, and i7 3770 which are not working even after fulfilling the majority of requirements like storage, cores, memory, UEFI boot, and many others.
Windows 11
How do I bypass the CPU Requirements in Windows 11?
Earlier, there was not any official to do that but then after seeing that majority of Windows 11 users facing issues, Microsoft released a registry hack to bypass CPU requirements but with they also give a caveat that it may cause security problems and no updates will be given.
Apart from that, there are some unofficial ways like using a third-party tool, Rufus, editing ISO files, and many more. Before you get into these processes and bypassing the hardware requirements, it's important to know the risks and restrictions involved that may result in a computer's performance.
That's it for now…
Conclusion
So, that's all about the Intel i7 7500U and the compatibility of the Win 11 operating system and whether will it be going to support after some updates or not. Also, we have already shared some quick ways which can help you in running this OS smoothly.
However, I recommend you to consider upgrading to a more recent processor so that you won't run into any compatibility issues.
Stay tuned for the latest posts…
Feel free to share your thoughts via comments and also tell us about this post on Is Intel Core i7-7500U Supported for Windows 11?
If you liked this post, don't forget to share it.