Searching for Refresh Option in Windows 11?
If yes then you are in the right place.
If you have already upgraded to Windows 11, then you might be thinking where is the Refresh Button.
Although, Microsoft has brought a lot of new features with this latest version of Windows OS.
Not only they have worked on the UI of the operating system but they have added some functions to improve productivity.
But one major change for which everyone is looking is that the "Refresh button is missing in Windows 11".
In the previous version of Windows, it was at the same place but now it's missing from its original place.
But don't worry they have not removed it. (It's just missing )
So let's get started…
Also, check out Windows 11 ISO Direct Download Links.
How to Get Refresh Option in Windows 11 [Button Back]
But before we begin, I want to give you some info.
Although, there are so many users who don't even use the Windows refresh button. But you won't believe that this option is very important in terms of refreshing your Windows. Whenever you press the refresh button, all the data present on your desktop or running process got refresh.
This not only helps you to refresh your desktop only but also helps you to fix some small issues. Like there are many when you are doing any work and it slows down your PC but after using the refresh option it gets some quick speed.
Apart from this, In the Previous Windows 10, you can easily find the refresh option right there but now the button is missing.
But don't worry, we know how to fix it.
So in this post, I will show you how to get the refresh option in Windows 11 or get the missing button back.
So let's get started…
Also, check out How to Bypass Secure Boot in Windows 11.
1. Using Context Menu

However in the previous Windows, the options were the same but now in Windows 11, they have made some changes for faster navigation. And I think that's why they have removed the Refresh button from the options present in Context Menu.
But that's not true they have not removed it, Microsoft only wants to show options that are widely used. And if you want the refresh option back then follow the step-by-step guide given below.
1. First, Right-Click anywhere on the desktop.
2. Now in the Context Menu, click on the Show more options.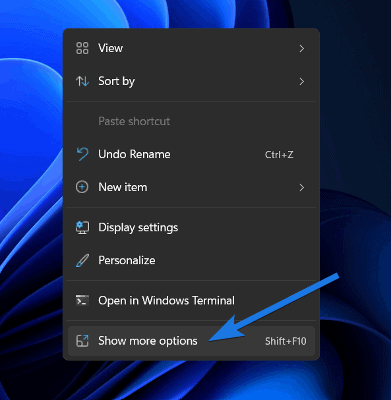 3. After that you will find the Refresh button back in the options.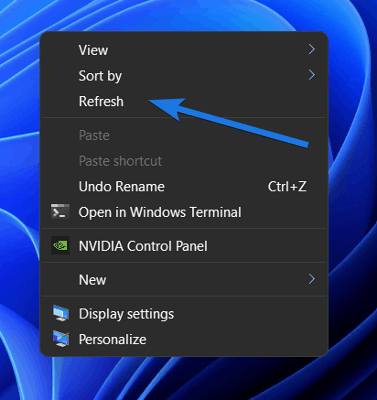 And done! Your refresh option is back in Windows 11. But and if you are searching for some quick way then the next part is for you.
2. Use Keyboard Shortcuts
Although using the above steps you can easily get the refresh button back but it's not permanent and like me, this also irritates you.
And you don't like pressing these buttons, again and again, the quick hack is for you. Just a few clicks and you are good to go.
Press Shift + F10 simultaneously on Keyboard.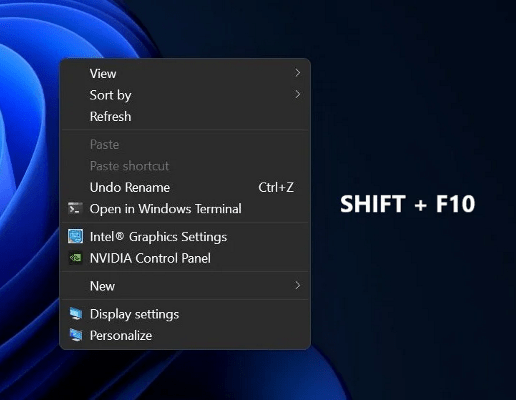 And this will directly open the Context Menu with a refresh option and you are done with it. And if you want a way faster than this, then the next part is for you.
3. Use F5 Key to Refresh Windows 11
Although the above method is really quick but if you want a quicker way to refresh in Windows 11, then this quick hack is for you.
Similarly, like Windows 10 this version also support many shortcut & features that was previously existing. In this, you have to just press one single key.
Press F5 Key to Refresh windows 11.
And I think this is the most preferred way because all the browsers also support this key for refreshing their tab or pages. And in my opinion, this works really great and faster.
4. Wait for Final Windows 11 Build

If you didn't like any of the above refresh options then, waiting for the final Windows 11 build release is a great option. Because this is not the final release and Microsoft may change some features which are not suitable for users. And if the users are not liking these features then Microsoft may remove them or may design them like the previous one.
Although, the new user interface other features are much appreciated by the users but there are some issues and glitches with may annoy you.
And if you are also struggling with this, then comment down below.
Also Read: How to Download PC Health Check App.
Some FAQs
What does refresh button do in Windows?
The refresh button helps you reload all your files present on the screen or folder and also arrange those files in a specific order. And because of this, there is a refresh option in Windows.
Where is the refresh button on Windows 11?
Microsoft has made some changes to the refresh button in Windows 11. Instead of giving the Refresh option directly in the Context Menu, they have added it under Show more options.
Is refreshing your PC good?
Yes, refreshing your PC is good but it does clean your computer or affects your RAM. It is basically for refreshing your display & elements present on your desktop after any change.
Is F5 the refresh button?
Yes, in Microsoft Windows F5 is the refresh button or a shortcut key for that. Using the F5 button you can refresh your desktop many times.
That's it for now…
Conclusion
So that's all about how to get the refresh button back in Windows 11. In the above posts, we have already shared the 3 quick ways to do it and will be updating more hacks and fixes related to this. Hope you liked this post and will share it with your friends who need it.
Apart from this, if you having a machine that is facing Windows 11 compatibility then use this new tool to check "WhyNotWin11"
Stay tuned for the next post…
Feel free to share your thoughts via comments and also tell us if liked this post on How to Get Refresh Option in Windows 11 [Button Back]
Don't forget to share this post.