Want to download WhyNotWin11?
If yes then you are in the right place.
After 6 years, Microsoft released its new version of Windows OS.
Although, they planned very well for the release and also provided a Windows 11 compatibility checker tool "PC Health Check App".
So that the users can check if their PC or Laptop is compatible with the new version of Windows or not.
But it didn't go well as the users started facing issues like "This PC can't run Windows 11" and "Processor isn't supported".
And that's why Microsoft temporarily removed the Readiness tool from its official website.
But don't worry, we have got the replacement. ( Even Better )
So let's see how it helps.
What is WhyNotWin11?

WhyNotWin11 is an open-source third-party tool that helps you to check if your computer is compatible with Windows 11 or not. Basically, it is a small script standalone installer app created by Robert C. Maehl which is available on GitHub. It is also considered as the best alternative to the PC Health Check App developed by Microsoft. Although, it has a very less user-friendly interface but it does its job well.
One thing which I really like about this tool is that it doesn't require any type of installation. Just you have to download the app and then double-click on it. And it will automatically detect all the hardware installed on your PC like if TPM 2.0 is enabled, Boot Type, Secure Boot, CPU Architecture, etc.
Note:- If you are using Microsoft Edge or Google Chrome Browser then it may block you from downloading WhyNotWin11. Sometimes Windows Defender also detects it as a malicious file but it's not a virus & we are also using it on our PC.
WhyNotWin11 Download Links
Although, there are so many sources from where you can download this Compatibility Checker tool for Windows 11. But here I have provided the genuine which will not be offline anytime.
WhyNotWin11 Download Link ( Mirror Link ) ( GitHub )
Now let's move to the next part…
WhyNotWin11 vs PC Heath Check App

Although, there is not much to compare between these two tools. But still, I will try to give you a quick overview of both apps.
And the comparison is based on 3 Categories:-
User Friendly: WhyNotWin11 is a simple detection script that helps you to identify your system specification but it's not that much user-friendly. Whereas PC Health Check App is a fully-fledged Windows apps that requires installation but has a very good user interface.
Trusted One: WhyNotWin11 is developed by some unknown developer and is provided on GitHub. Whereas PC Health Check App is developed by Microsoft and it was officially available on their website.
But both apps are trustworthy and can be used on any Windows PC.
Features: WhyNotWin11 is much better in terms of features as it provides much deeper information related to your PC. Whereas PC Health Check App only provides you the reason that it is not supported like "The Processor isn't supported for Windows 11".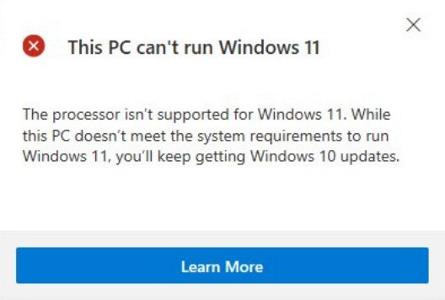 WhyNotWin11 Features & Details it Provides
As in the above section, I have already shared much about this tool and how beneficial it is to use. Also, according to me, WhyNotWin11 is a great tool if you want to check why PC is not Windows 11 compatible.
So let's see what features it has & the details it provides.
Boot Type: Provides details about which Boot Type your PC supports, Legacy or UEFI. ( Windows 11 requires UEFI Boot Type )
CPU Architecture: Which Architecture your PC supports, 64 bit or 32 bit.
CPU Generation: Checks your computer is having AMD Processors or Intel Processors & its core generation like i3, i5, i7, etc.
CPU Core Count: How many Cores does your CPU have.
CPU Frequency: Tells you the frequency of your PC like 4.2 GHz.
Directx Support: Which Directx version your PC supports
Disk Partitioning: What type of Partitioning you are using, MBR or GPT.
RAM: How much RAM is installed on your computer.
Secure Boot: Does your PC has Secure Boot enabled or not.
Storage: How much free space storage is available on your machine.
TPM Minimum: Which version of TPM your PC's motherboard has. ( Like, is it TPM 2.0 or TPM 1.2 )
And I think that's all that you need for running a Windows 11 PC without any errors or issues. Also, I really like the color code. 🙂
Now let's see how to use it.
How to use WhyNotWin11 & Check if your PC or Laptop can Run Windows 11

However, in the above section, I have already told you that it is very easy to use WhyNotWin11. But still, I will share a quick guide for you.
So, just follow this step by step guide.
1. First, Download the WhyNotWin11 from the links given above.
2. Now, double-click on the "WhyNotWin11.exe" file that you have downloaded earlier.
3. After that you will see a message "Windows protected your PC" & then click on More info and then click on Run anyway.
Note:- It is only a false alarm from Windows Defender because of an Unknown Publisher. Don't worry it is safe and you can use it.
4. Now it will start checking your system hardware and then will tell your Windows 11 Compatibility results.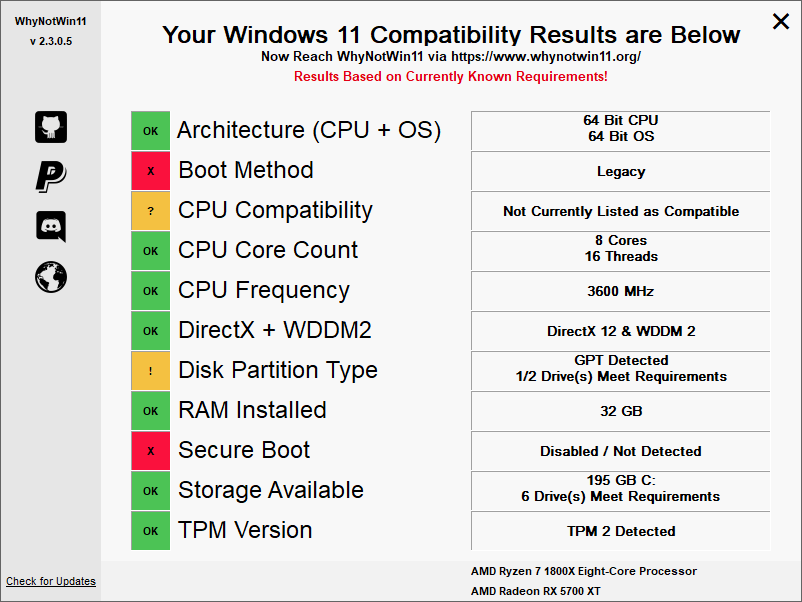 And Done! If you got all the greens then you can easily upgrade your PC to Windows 11. And if not then you can also check the below-mentioned system requirements that are required.
Windows 11 System Requirements
However, if you are still confused that your PC is compatible or not, then you can check out the given system requirements that are required to run Windows 11.
Although, I have already shared a detailed guide on minimum system requirements for Windows 11.
But here is a quick overview.
| Hardware Specs | Requirements |
| --- | --- |
| CPU | At least 1.5-2 GHz Processor with 2 or more core |
| RAM Memory | 4GB ( Minimum Recommended ) |
| Storage | Free Disk Storage of 50 GB |
| Display | 1600×900 HD Resolution display |
| System Firmware | Support Secure Boot and UEFI |
| Graphics Card | Intel Integrated Graphic or higher with Directx 12 and WDDM 2.0 Support |
| TPM | Trusted Platform Module version 2.0 |
| Internet Connection | For using Microsoft account and other apps that require internet connectivity |
That's all about the Windows 11 requirements and if you think that your PC is Compatible then you can download this Win 11 official ISO file.
Some FAQs
Is there a Windows 11?
Yes, Microsoft has officially announced Windows 11 on 24th June 2021. Soon will get the stable release of Windows.
Will I get Windows 11 for free?
Yes, only if you are a Windows 10 genuine user as Microsoft has officially stated that all users will get Windows 11 for free as an upgrade.
How can I tell if my computer will run Windows 11?
If you want to check if your computer will run Windows 11, then use the WhyNotWin11 Compatibility checker tool.
Does my PC meet Windows 11 requirements?
For this, you need to check the Windows 11 minimum system requirements or you can use any compatibility checker for Windows 11.
That's it for now…
Conclusion
So, that all about the WhyNotWin11 tool which you can use to perform windows 11 compatibility test on your PC or Laptop. Also in this post, we have tried to cover each and everything about this compatibility checker tool which is a great alternative to PC Health Check App.
I don't know that Microsoft will return this tool with more advanced or details but till then you can use the alternative tool mentioned in this post.
Stay tuned for the next post on Windows 11 Insider Preview.
Feel free to share your thoughts via comments and also tell us if liked this post on WhyNotWin11: Download PC Health Check App Alternative.
Don't forget to share this post.