Want to Windows 10 Start Menu in Windows 11?
If yes then you are in the right place.
Microsoft has now completely changed its new Windows OS design.
And most of the users are loving it, especially the visual effects which are giving a much more refreshing look to it.
Although, in the previous post, I have already shared some awesome Start Menu tips for Windows 11 that everyone must know.
But I have seen many users who are not liking this new Start Menu look.
And are searching for getting back to the old classic Start Menu which was present in Windows 10.
And that's why for them, we have created this step-by-step guide.
So let's see how it works…
How to Get Back Windows 10 Start Menu in Windows 11
But before we begin, here is a quick overview for you.
Although, I really liked the Start Menu of Windows 11 and especially its amazing look. Earlier most of the users used to install some skin packs on their Windows PC to change the look and feel. But now Microsoft has already done this job and has completely changed its complete UI.
Also, if you are using the Windows 11 leaked version then I would suggest you to replace it with the Insider Preview Update. Because it is much more faster and smoother as compared to the leaked one.
And if you are still not liking it and want to shift to the old Start Menu then follow the given below steps.
Note:- In this tutorial, we will be editing some Registry file settings. So, if you don't know much about them then I would suggest you to only follow the exact steps given below. Because altering some other settings may cause harm to your computer machine.
So let's get started…
Also check out, How to take screenshots in Windows 11.
1. Open Registry Editor
First, Go to Start Menu and then search for "Registry Editor" & hit Enter. Or you can also Right-Click on it and then choose "Run as administrator".
2. Go to "HKEY_CURRENT_USER"
After that, the Registry Editor will open up and then navigate to the given path or location. Or you can also copy the given location & then paste it to the location bar of the Registry Editor.
Location:-HKEY_CURRENT_USER\Software\Microsoft\Windows\CurrentVersion\Explorer\Advanced
3. Create a New Start Menu Registry File
Now once you are in the above-given location, Right-Click on the right-hand side section and then click on New & then select DWORD (32-bit) Value.
After that, rename the DWORD registry file that you have created earlier as Start_ShowClassicMode.
Now Right-Click on it & then select Modify… and change its Value data from 0 to 1, now click OK. You can also double-click on the Start_ShowClassicMode file to change its value.
Now you have successfully enabled the classic Windows 10 Start Menu in Windows 11 using the registry file settings. So, now close the Registry Editor.
Optional Tasks
Some users are facing issues as the registry file settings are not working for them. And if you are also one of them, then Go to Command Prompt and Run the following commands given below.
Commands:-
taskkill /f /im explorer.exe
start explorer.exe
Or you can simply Go to Task Manager and then in the Processes tab search for Windows Explorer and right-click on it & then select Restart.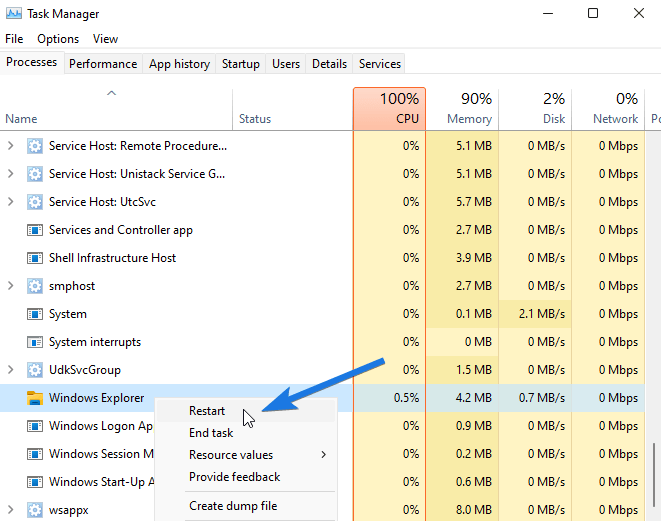 4. Restart your Windows 11 PC
Now if you are still facing some issues after following the above tasks, then I would suggest you to Restart your Windows 11 PC or Laptop. So that, all the changes made in the registry files may take effect and get saved.
And after Restart, you will see your Windows 11 Start Menu has changed to Windows 10 Classic Menu. Also with this, you will be getting some features like Live Tiles, Recently added, and many more.
5. Change Taskbar Settings
Although, you have already got all the features of the old Classic Start Menu. But if you are still not liking it in the Center position, then here is a guide to completely change it like Windows 10 on the left.
And for this follow this quick step:-
1. First, Go to Windows Settings > Personalization > Taskbar > Taskbar Behaviors and then change the alignment from Center to Left. And done!
Also, I have seen many users getting confused between Start Menu and Taskbar. In the above steps, we have changed the Start Menu settings but here we have changed the position of the taskbar to left.
Restore Windows 11 Start Menu to Default
However, according to me I really like the Start Menu of Win 11 and the look and features they provide are amazing. Also, I am pretty much sure that we will be getting lots of new features with the Official ISO build.
Apart from this, If sometimes you get bored with the Classic Menu, then you can easily restore it to the default Start Menu of Windows 11. And you never know, maybe we also get some settings from Microsoft for this.
But now, you can follow this guide:-
1. Go to the Registry Editor and navigate to the same path mentioned above in Step 2.
2. Now Delete the Start_ShowClassicMode file that you have created earlier. By simply right-clicking on it and then select Delete.
3. Now Restart your Computer, PC, or Laptop.
Note:- Instead of deleting it completely, you can also change the Value data of the registry file from 1 to 0.
Conclusion
So that's how you can easily bring back the old Start Menu to your latest Windows OS. In this post, we have also covered how easily you can switch between both the new and classic start menu.
Also, if you didn't like this new operating system then you can check out this amazing comparison between Windows 11 vs Windows 10.
Stay tuned for the next post…
Feel free to share your thoughts via comments and also tell us if you know a better way on How to Get Back to Windows 10 Start Menu in Windows 11.
If you liked this post, don't forget to share it.