Want to know What is TPM 2.0?
If yes then you are in the right place.
Windows 11 is on a roll & everybody is trying to use it quickly.
But only very few have successfully installed it on their PC or Laptop.
Because most of the users are struggling with "How to Enable TPM 2.0 in Windows 11" and they didn't get a real solution to it.
And if you are also one of them, then you must read this post.
Because TPM Chip is the most basic thing to have on your Motherboard for running windows 11 effectively.
But before we dive in further, I would suggest you to have a look at other system requirements that are required.
So let's get started.
What is TPM?

TPM stands for Trusted Platform Module. It is a microchip that is often present on your computer's motherboard for security purposes. In simple terms, it is hardware that performs crypto functions like creating cryptographic keys and storing them separately in isolated modules.
Moreover, TPM was first introduced by TCG – Trusted Computing Group in 2009. And the best part of this chip is that it stores all the cryptographic keys in a place where no one can access them. Also, these keys and files can only be accessed while doing any encrypted task like password login, drive encryption, file encryption, and many more.
Apart from this, I have seen many users are very curious to know and that's why asking so many questions. And in that case, I would like to answer one query which is mostly asked.
Why does Windows 11 require TPM?
Windows 11 requires TPM because Microsoft has made this requirement compulsory for all users to increase security & privacy. Moreover, all the upcoming operating systems will require this since now privacy has become a major concern.
Also Read: How to Install Windows 11 without TPM 2.0.
What is TPM Module & its Type
TPM or Trusted Platform Module is a global standard that is decided for Secure cryptoprocessors. And this is divided into two types of modules, one is Discrete (dTPM) and the second one is Firmware TPM (fTPM).
fTPM is a software-based module that runs like firmware which is a low-level software like UEFI. Basically, UEFI is the replacement for BIOS which runs when your CPU starts or booted. Apart from this, fTPM is also called as a Platform Trest Technology (PTT) by Intel and as Platform Security Processor (PSP) by AMD CPU manufacturers.
Whereas dTPM is a hardware-based module that helps in protecting you from attacks on BIOS and other low-level hardware chips. Basically, dTPM has the TPM chip which helps in storing & executing encryption tasks. Also, many motherboard companies already provide the TPM connector for placing the Trusted Platform Module chip on the board.
What is TPM 2.0?

TPM 2.0 is the advanced version of the Trusted Platform Module (TPM) which helps you to provide security from malicious hardware-based attacks and other low-level attacks on BIOS. It is basically a processor chip that helps you in determining whether any of the system files are attacked by any virus or malware. Similarly, like TPM it also provides all the cryptographic functions like drive encryption in a better way.
One of the biggest benefits of having a TPM 2.0 chip on your motherboard is that it detects all these issues and malicious attacks during the boot process and also fixes it accordingly.
And that's why for better security and privacy, Microsoft has made TPM 2.0 compulsory for Windows 11 upgrade.
What is TPM 2.0 Chip Motherboard?
TPM 2.0 Chip Motherboard refers to all those motherboards that have TPM 2.0 Chip on them or have a connector to attach new TPM chips. Since the TPM 2.0 Chip was released in October 2014 and in that case we can assume that all the motherboards manufactured after 2016 will have a TPM 2.0 Chip.
But not all motherboards companies follow all the protocols and provides TPM connectors on their board. And according to me, AMD and Intel processors will definitely have these chips on them.
But if you are not sure then you can check out this list of "What motherboards have TPM 2.0" check here.
Features of TPM 2.0
Although, we have talked much about TPM 2.0 in the above section but here we will discuss some features of this chip.
Prevent hacking & Spoofing Attacks
Detects any low level BIOS Attacks
Improve BitLocker Drive Encryption security
Protects from Boot Process Malware & Viruses
Maintains a secure connection between two source
Improves authentication protocols on a device
Secured firmware and software updates
Protects all the sensitive data from leakage
Stores all Certificate and Password files
And you won't believe that there is TPM 1.2 also which supports all these features but TPM 2.0 more advanced in terms of security.
How to Check TPM Status for Windows 11 on PC or Laptop
In the above section, we have already discussed What is TPM 2.0 & how important it is to have it on your computer's motherboard. And if you want to want to check does my motherboard has TPM 2.0, then follow this quick step-by-step guide.
1. Go to Start Menu and then for Run & hit Enter.
2. Now type "tpm.msc" in the run box & then click on OK.
3. Now if you got a status like "The TPM is ready for use", then TPM Chip is available on your motherboard and it is actively working.
Note:- And if you find an error like "Compatible TPM cannot be found" then TPM is not enabled or maybe not available on your PC or Laptop.
Apart from this, if you are not sure and want to double, then you can use the PC Health Check app.
Now let's move to the next part & check how to enable it.
How to Enable TPM 2.0 on Windows 11 [ Intel CPU ]
Although, all the intel CPUs are very advanced in terms of security and provides TPM 2.0 Chip module on their motherboard. But it can be a reason, that you forgot to enable it or activate it and that's why Windows 11 is not working on your PC.
So, here I will show you "How to turn on TPM in BIOS?"
1. First, Shutdown your PC or Laptop.
2. Now Restart it and then press the BIOS Settings Key.
3. After that in BIOS Settings, search for TPM Settings & Enable it.
4. Now save your BIOS Settings and Exit.
5. At last Restart your CPU & then again check TPM status.

Note:- In Intel-based CPUs, you may find the TPM Settings named as Intel Platform Trust Technology (PTT) or PCH-FW Configuration. So, Enable Firmware TPM accordingly.
And if your TPM 2.0 error is fixed, then check out how to download & Install Windows 11 for free.
How to Enable TPM 2.0 on Windows 11 [ AMD CPU ]
Similar to Intel, AMD CPUs are also great in terms of providing great features for security purposes. But the interface of AMD BIOS Settings is pretty different as compared to the above one. Here you may find TPM Settings named as AMD fTPM Configuration.
So, Here I will show you "How to Fix TPM 2.0 Module Error?"
1. First, Shutdown your Computer or Laptop.
2. Now Restart it and then Go to BIOS Settings.
3. After that in BIOS, search for TPM Settings & Enable PTT option.
4. Now save all your Settings and then Exit.
5. At last, Restart your CPU and then check TPM status again.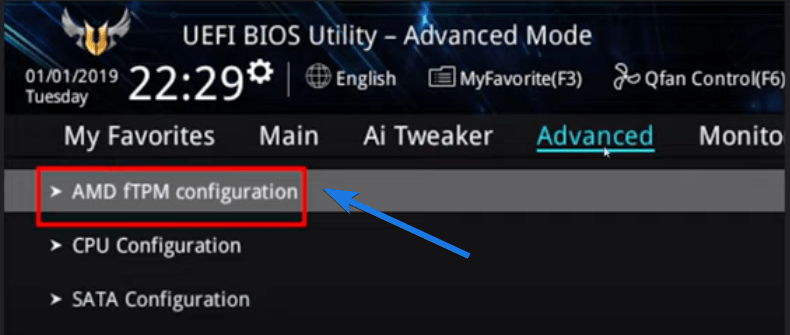 Note:- Doing all these settings will also help you to fix "This PC Can't Run Windows 11" error on your PC.
And also check out how you can get Insider Preview Update.
Some FAQs
What is a TPM 2.0 chip?
TPM 2.0 Chip is a hardware component that is present on your PC's motherboard which adds an extra layer of security & also known as Trust Platform Module 2.0 Chip.
What does a TPM do?
TPM (Trusted Platform Module) is a microchip that stores cryptographic keys, functions & other sensitive data present on your PC or Laptop.
Do I have a TPM 2.0 chip?
To check if you have a TPM 2.0 chip, follow these steps. 1. Go to Start Menu, search for Run & hit Enter. 2. Now type "tpm.msc" & press Enter. 3. Now under TPM Manufacturer Information, you will see Version 2.0.
Why TPM is required?
TPM is a secure cryptoprocessor that stores all the cryptographic keys & other sensitive data of your PC. It also protects you from Hacking, Spoofing & other Malicious attacks.
Can TPM be hacked?
Yes, TPM can be hacked but it's not that easy. Only a few hackers have hacked it and Chris Tarnovsky is one of them.
That's it for now…
Conclusion
So that's how you can easily fix TPM errors & can enable or activate it on your Laptop or PC. Also in this post, we have tried to cover each and everything like TPM 2.0 Chip Motherboard, Its benefits, features, and the different types of modules.
Also, please pay attention to TPM Settings because both Intel-based computers and AMD-Based computers have different settings.
Stay tuned for the next post on Win 11 compatibility checker tool.
Feel free to share your thoughts via comments and also tell us if you liked this post on What is TPM 2.0 Chip Motherboard & How to Bypass or Fix Windows 11 Module Error.
Don't forget to share it on your favorite social media platform.